Help me out here. Am I just being silly, or is it really weird that, despite the fact that they both generally
have the same information, the BBC News story about the Gulf Oil Spill is presented in a completely different way from the CNN story. Observe:
Third major story on BBC News, the fact that the oil is in the Loop Current leading the headline.
On CNN: 5th story down the list of "recent news," after no less than 5 stories about the primary elections yesterday and with a headline that's kinda weak ("Where is the gulf oil spill headed"? You mean, BESIDES the Loop Current and the History Books?).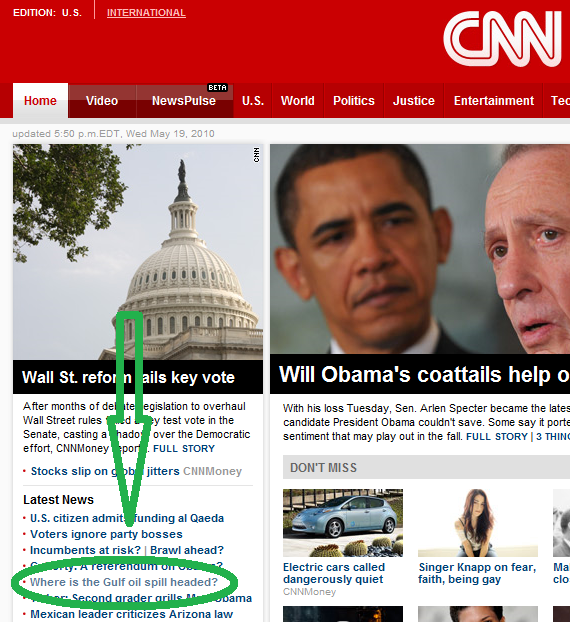 Once you get into the stories, too, this difference continues: CNN's headline tells us that the tar balls found in Key West are not from the oil spill (subtext: nothing to worry about, go back to your SUV now!). Lots of warm and fuzzies there. Only in the 6th paragraph do we get to the part about the oil being dragged towards Key West, Cuba and the entire East Coast (after I'm guessing a fair percentage of readers have stopped skimming and have moved on to the video about the Hooters employee asked to lose weight [#2 right now on CNN, just after the article about the Wall Street Reform bill]) while the BBC's article headline is a more, um, forward "Gulf oil now in powerful Loop Current, scientists say". Oh um, yeah, sounds like a good thing to report, don't you think, CNN?
OK. I've said my piece, what do you think?